Not For Sale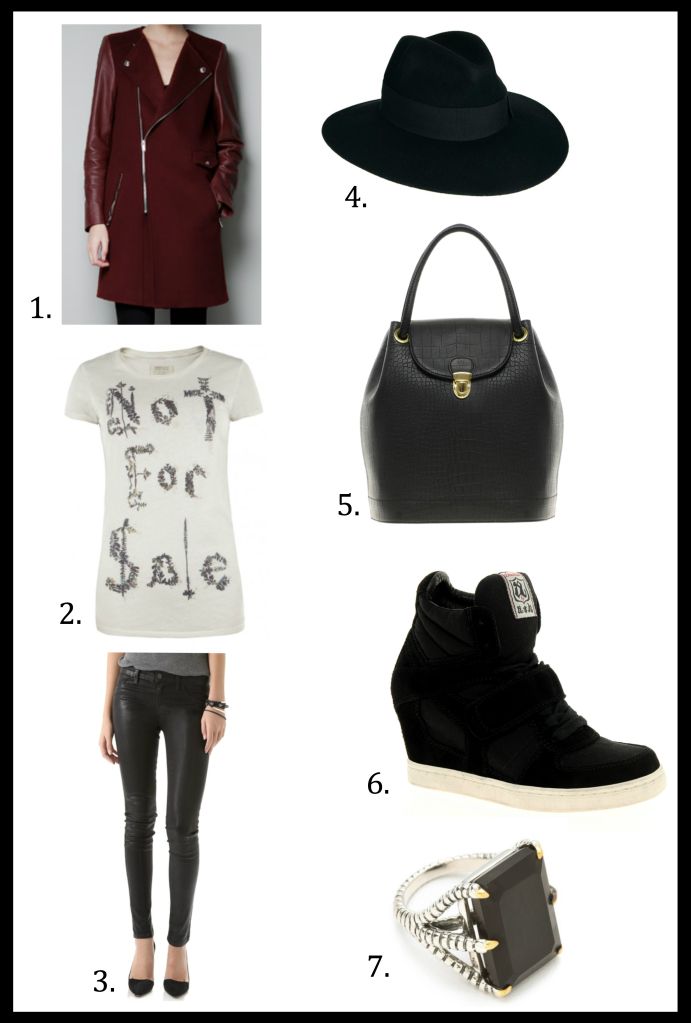 1. Zara Combined Coat with Zip
2. AllSaints Laurels T-shirt
3. J Brand 901 Waxed Legging Jean
4. Catarzi Exclusive To ASOS Fedora Hat
5. ASOS Croc Constructed Bag
6. Ash Cool Suede Strapped Wedge Sneakers
7. Elizabeth and James Bird Claw Ring with Onyx
About the "Not For Sale" campaign from AllSaints (from the AllSaints website):
"In an international effort to fight human trafficking and end modern day slavery, AllSaints Spitalfields launched an innovative partnership with the international anti-human trafficking group, Not For Sale, in late 2011. "In recent years, the fashion world has focused its attention primarily on the environmental impact of manufacturing and product sourcing," says David Batstone, President of Not For Sale.
The 2011 launch of the partnership between AllSaints and Not For Sale represented the unprecedented entrance of a global retailer into a movement that aims to put an end to forced labour. AllSaints and Not For Sale together aim to model what it looks like to care about the dignity of people.
The partnership commenced with the launch of a Not For Sale capsule T-shirt collection, designed and produced exclusively by AllSaints. The line debuted around fashion week in September 2011, and opened across launch events in London, New York, Los Angeles and Amsterdam. Proceeds from the line benefit Not For Sale's work to combat human trafficking globally, and producers continue to promote the shared vision of Not For Sale and AllSaints to prevent forced labour and end human trafficking.
Not For Sale equips and mobilises Smart Activists to deploy innovative solutions to re-abolish slavery – in their own backyards and across the globe. Together we can end slavery in our lifetime."
More about Not For Sale and how you can help end slavery here.